Congratulations! You're a mom! What a wonderful time in your life.
While you'd never trade the experiences of pregnancy and motherhood for anything … and you love devoting your entire self to your child or children … there'll probably come a time when you catch of glimpse of yourself in the mirror and a little part of you wishes you could just do a little something for yourself — something to help you regain the body of the pre-mommy you.
Yes, you've changed your diet (no more ice cream with pickles!) … and you walk every day with your little one … and you try to sneak in a quick DVD workout during his or her naptime … but you just can't seem to shed the extra weight and get back those toned muscles you once had. But the truth is, biologically, there are issues that you just will not ever be able to remedy on your own — for instance, overstretched skin in your belly area or breasts that have lost their volume.
But you can get a little help to eliminate those troubling areas and get your body back to pre-motherhood shape.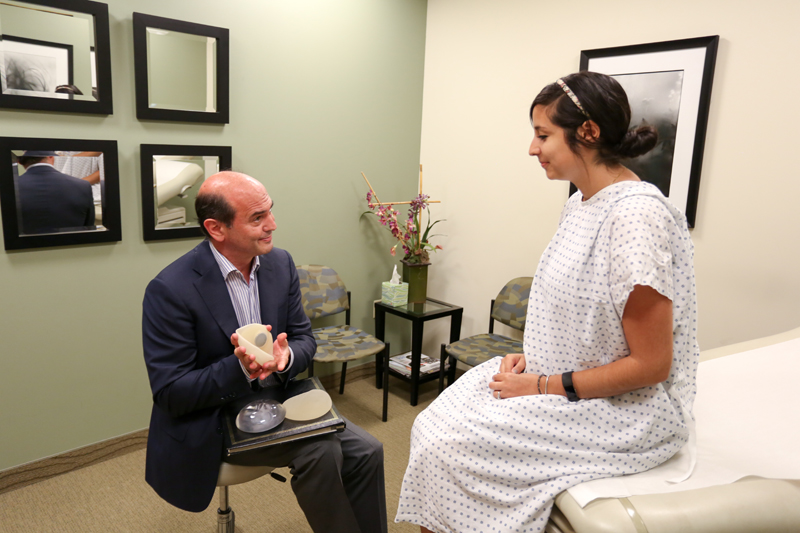 Consider treating yourself to a "Mommy Makeover." A "Mommy Makeover" is the nickname given in recent years to cosmetic surgery/surgeries that can help women improve the appearance of their bodies after pregnancy. The makeover usually includes one or some combination of the following procedures …
In recent years, the "Mommy Makeover Trifecta" — the nickname given to a collection of the most popular procedures chosen by women who want to gain back their pre-pregnancy figures: tummy tuck; breast lift plus augmentation; and liposuction on the legs, arms, stomach, and lower back — has become quite popular. In conjunction with one another, these three procedures tend to be the most effective at creating the results women with children typically desire. (The procedures are done separately; not all at the same time.)
Pregnancy affects women differently, so the procedure or procedures you should consider will depend on how your particular body responded to pregnancy and breastfeeding. Typically though, top candidates for a "Mommy Makeover" have one or more the following complaints about their body:
Excess abdominal fat
Loose skin on the breasts or stomach
Stretchmarks on the breasts or stomach
Lost volume in the breasts
An overabundance of volume in the breasts
Large, stretched nipples
Transformative Change with Mommy Makeover Procedures
If you are having trouble losing the extra baby fat after pregnancy or are dissatisfied with the way your skin or breasts look post-pregnancy, we have a full line of body contouring and skin tightening procedures for you.
What is the procedure?
If you can't get rid of extra baby fat after pregnancy, our body contouring mommy makeover procedures may be an option for you. This procedure line offers body contouring procedures, like traditional liposuction, SmartLipo™, SculpSure™, or CoolSculpting™.
As a result of pregnancy and breastfeeding, the breast may decrease in size or sag. Depending on the results you are seeking, options to correct pregnancy-related issues of the breast include augmentation, breast lift, or a combination of both.
The muscles in the lower abdominal region and the skin surrounding this area may stretch out as a result of pregnancy, and may not return back to its normal form. No matter how much exercise or dieting one does it will never cause the muscles to come back together. The reason is that during pregnancy muscles also stretch. This is called a diastasis recti. The diastasis recti result in a small bowl of the lower abdomen. The only way to correct this is by physically tightening or placating the muscle fascia. This is done with a mini or full abdominoplasty (tummy tuck).
How it works
Schedule a consultation to discuss what procedures may be right for you. Whether you are looking for breast augmentation, breast reduction, or tightening of the abdominal region or skin surrounding this area, we are able to identify the procedures that will provide the outcome you desire.
Contact us here at Kevitch, Chung & Jan Aesthetic Surgery Associates for your personalized "Mommy Makeover" consultation with one of our board-certified plastic surgeons.