What is Botox?
Botox Cosmetic is a prescription medicine that is injected into muscles to improve the look of moderate to severe frown lines between the eyebrows. If you feel those lines make you look tired or unapproachable, BOTOX may be right for you. It can produce real, noticeable results, with no surgery and no recovery time. Visible results have been shown to last up to four months.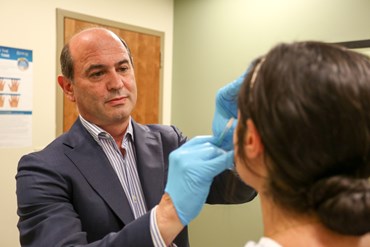 How Does it Work?
Frown lines result from muscle contractions. When you concentrate, squint, or frown, the muscles between your brows contract, causing the skin to furrow and fold. After years, those wrinkles can stay even after the muscles return to rest.
What else does Botox Help With?
Soften your jawline and chin
Tighten jowls
Lip Flip
Smooth your neck
Stop migraines
Calm excessive sweating

 
Why Choose ASA for Botox?
We are your local experts!
All our providers are advanced patient injections with countless hours of injecting and in-depth training. Our Board Certified Plastic Surgeon Dr. Johnny Chung has been an Allergan Academy certified injector training instructor from 2012 to – present. He has instructed other physicians, physician assistants, and nurses on the art of Botox®, Juvederm®, Kybella®, Voluma®, Volbella®, and Vollure®.
If you have any questions or wonder if Botox is the right solution for you, call today.
Our practice sees patients from across the region, not only in the Lehigh Valley but from Phillipsburg, NJ to Reading, PA.