HOW IT WORKS
NeoGraft allows you to stop your thinning hair or balding issue … by using your own hair.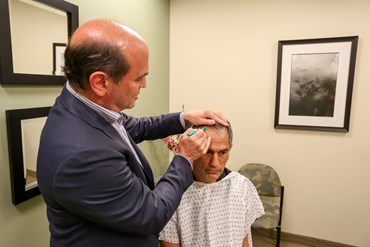 With NeoGraft's advanced technology you get natural-looking hair replacement results with no linear scar, minimal downtime and a shorter recovery period.
Whether you're a man or a woman, you want a nice head of hair, right? When you look in the mirror and notice the first signs of thinning hair or hair loss, you don't just have to accept it as a result of genetics or as just "part of getting old." You can do something about it easily, painlessly and quickly — without surgery. It's called NeoGraft.
Restore your Hair with Neograft®
NeoGraft® is a procedure used in the hair loss of both men and women. This revolutionary technique can also be used to replace missing hair in the eyebrows.
What is the procedure?
NeoGraft® is a revolutionary technique which uses a .8 mm hollow needle that allows us to harvest individual hair follicles. This technique is called capital follicular unit extraction or FUE. The hair follicles are then transplanted individually into the desired areas. The procedure is performed under local anesthesia.
How it works
NeoGraft® can take anywhere from three to eight hours depending on the number of FUEs necessary to cover the desired area. The most common donor area is the occipital portion of your scalp or the back of your head. Swelling and bruising are common and typically lasts for about one week. By week three, there is minimal to no evidence that you underwent a procedure. Results are usually extremely natural. This procedure is very different than the old method of punch grafting, which usually leaves unnatural looking results.
The normal cycle of new hair growth after NeoGraft® or hair transplant typically begins to grow for approximately a three month period. Between months three and six, the newly transplanted hair will begin to shed for the fallout. The hair then goes into a quiescent or sleep cycle between months six and nine. At month nine, the transplanted hair follicles will begin to grow. At one year, approximately 80-90% of the hair transplant will be visibly growing.
What are the advantages of the NeoGraft System?
The many advantages of NeoGraft make it the most popular hair replacement system today …
It's your own hair
There are no scalpels … incisions … or surgery
No scarring
You never feel any discomfort
The exact harvesting and placement of your healthy follicles allows your doctor to artistically create a natural-looking, new hairline — your new hairline will not have the awkward "doll's head" appearance that was often the end result of other older hair replacement methods like hair stripping
Results are seen quickly
Short procedure times and fewer return visits
By automating the process, the NeoGraft system reduces the time and patient cost for FUE hair restoration
How is NeoGraft performed?
Quite simply, when you have NeoGraft performed, your doctor is taking hair from the back and/or sides of your head and replacing it in areas where hair loss has occurred. It's very much like taking a healthy plant from a full, thriving area of a garden and transplanting it to another area of the garden where there are no plants so that that area can become lush and full as well.
The NeoGraft system uses a special technology that is able to quickly remove the hair follicles from the donor area and implant them to balding areas — it uses a controlled pneumatic pressure to slide out the graft smoothly, so there is no pulling or twisting which can risk damaging the graft. Because the NeoGraft transplant is faster than other out-of-date methods, the grafts can be re-implanted sooner which keeps them more robust, increasing the success of the grafting process.
During your NeoGraft procedure, you'll be under local anesthesia. You will feel no pain. Units of up to four individual hairs each will extracted from the donor area or areas on your scalp. The extracted units are placed in a container that sprays them with a light mist of saline. Once your doctor is ready to implant the units in the recipient part of your scalp, the follicles are implanted to the exact measurements of each recipient site.
You feel no pain and are awake during the entire procedure. Most patients, in fact, converse with the doctor throughout the procedure. The entire process can take up to about eight hours to complete, depending on the degree of your hair loss.
For more details about what to expect during your procedure, please read the blog series posted by a one of our patients who has undergone the procedure and is delighted with his results. Part1, Part 2, Part 3, Part 4, Part 5.
How soon will you see results?
Everyone wants to see the end result of his or her hair restoration immediately. The truth is, even with the NeoGraft system you will have to wait some time until you can appreciate the final results. But it is worth the wait.
Once the hair follicle has been implanted into the balding area, the grafted hair will stay in place for about two to three weeks before shedding. After shedding, the new growth will begin in three to four months; this is normal and an important part of the new hair growth process.
After that time period, the hair will continue to grow normally; your result will look healthy and natural. So figure it will be approximately six months until you have your new, full head of hair.
How long will your "new hair" last?
Transplanted hair taken from the sides and back of your head should continue to grow the rest of your life just like it did in the donor area. Please keep in mind, however, hair loss does not stop after a transplantation — you may need continuing maintenance either with preventative hair loss drugs and/or further hair restoration sessions, particularly if your balding patterns continue with age.
If you continue to suffer progressive hair loss or if you'd like a more dense head of hair, you may require more transplants. Please have this discussion with Dr. Kevitch, Dr. Chung or Dr. Jan during your consultation. He can study your balding pattern and estimate the number of procedures you may ultimately need.
How do you know if you're a good candidate for NeoGraft?
First, you need to be in overall good health. Secondly, you need to be suffering from just moderate hair loss. And lastly, you need sufficient donor hair on the back of your scalp or sides of your head to transplant into the balding areas. (Those with more donor hair and greater hair density can typically expect fuller results.)
Also, you must be a person who has reasonable cosmetic goals and who understands and accepts the limitations of this hair replacement process. NeoGraft does achieve amazingly natural results — but it cannot restore your hair to the density you had as a teenager. Please keep this mind. It's important that you have realistic goals for your hair restoration.
But rest assured, the expertise, talent and artistic eye of each of our doctors will indeed give you a natural-looking hairline and hair thickness that coincides with your age and facial features so as to not draw any unwanted attention. Your doctor here at Kevitch, Chung & Jan will assess the amount of coverage needed to give you the best look for you.
Is NeoGraft suitable for both men and women?
Yes. Because NeoGraft is a minimally-invasive procedure, it is a viable option for both men and women looking to restore their own living and growing hair with transplantation. One of NeoGraft's greatest benefits for women is that the system may be able to treat hair loss in women who cannot be treated with other methods. The NeoGraft system is a minimally invasive treatment that rapidly harvests and implants donor hair follicles from other areas of your scalp. The result is natural-looking, full, healthy hair.
Hair loss is difficult for women and men, but it's important to note that women face a particular challenge with hair loss – limited support from the medical community. This includes limited treatment options and few medical providers who provide compassionate care to women with hair loss. Typically, because the condition is primarily associated with men, women who seek treatment are unfortunately often dismissed by their medical providers and left to seek solutions on their own.
Don't make hasty decisions regarding your hair restoration, however. Addressing female hair loss is different than addressing a man's. You need to carefully choose a hair restoration provider who recognizes and understands this fact. You need to find a doctor who has experience with remedying female hair loss. Women lose their hair in a process known as "diffuse hair loss." This means that you are losing hair from your entire scalp, not just in isolated areas like men. Thus, the way NeoGraft must be used to address a woman's hair loss differs significantly from a man's balding pattern.
Here at Kevitch, Chung & Jan we not only understand how to properly treat female hair loss, we also recognize the emotional impact that your thinning hair has on your self-image and confidence. Trust us like so many of our female hair restoration patients already have. Please check out our before-and-after photo page and to speak privately with one of our docs, schedule a consult at your convenience.
NeoGraft vs. Strip Extraction
Understanding the differences between NeoGraft and strip extraction — commonly known as the "strip method" — can help you make informed decisions about your hair restoration. The chart below quickly summarizes the comparisons between these two techniques. Underneath the chart we discuss is greater detail each advantage that NeoGraft holds over the traditional strip extraction.
| | | |
| --- | --- | --- |
| | NeoGraft | Strip Extraction |
| No Scar | X | |
| Shorter Procedure Time | X | |
| Fewer Return Visits | X | |
| Short Recovery | X | |
| Painless | X | |
Strip Extraction — SCAR: For strip extraction, a strip of the scalp is removed from the side or back of the patient's head. The excision requires a significant incision that is stapled or sutured.
NeoGraft — NO SCAR: NeoGraft is based on the minimally invasive Follicular Unit Extraction (FUE) technique that harvests individual hair follicles rather than strips of scalp.
Strip Extraction — LONGER PROCEDURE, MORE RETURN VISITS: Strip extraction is a lengthy process, and many of the hair follicles do not grow and remain. As a result, patients may need several procedures to achieve the fullness and appearance they desire.
NeoGraft — SHORTER PROCEDURE, FEWER RETURN VISITS: Because NeoGraft is a fully automated system, hair grafts are placed more quickly in the treatment area. This increases the likelihood that the grafts will be successful. This results in fewer visits.
Strip Extraction —LONG AND PAINFUL: Strip extraction is an extensive and often painful method of hair transplantation. Patients must heal from the extensive incision made during the scalp excision. Time is needed for the many tiny incisions needed to place the grafts to heal as well.
NeoGraft — BACK TO NORMAL NEXT DAY & NO DISCOMFORT: The NeoGraft system uses the FUE technique for harvesting donor hair follicles. This technique reduces patient discomfort during and after the procedure. Downtime is minimal. Many people return to work the next day, sometimes two days after having the procedure.